It is no secret that visual content can help a brand build a loyal audience thanks to its ability to grab attention and storytelling.
With over 2 billion users every month, Instagram is one of the most popular photo-feed platforms amongst consumers worldwide. In fact, globally, it is the 7th most visited site, and 9th most searched for word on Google, making it a necessary place for companies to have a presence. Not just popular among individual users, Instagram proves to be a vital part of brand reach, with as many as 50% of people admitting they have been influenced to buy a product as a result of a post.
At Creative Marketing (NW) Ltd, we believe that Instagram is a brilliant platform for any business to improve customer relationships, increase your audience size, and gain valuable customer feedback. Alongside these points, social media influencers are thriving on the platform along with paid and organic advertising opportunities meaning companies can use the platforms in many different ways. Furthermore, the integration of video content in the form of stories and reels allows this extra selling tool to be harnessed, of which the merits we have shared in our 'Top 20 Best Brands on TikTok' article.
With plenty of ways to use Instagram and a vast available audience ready for you to market, we believe every business should have a presence on the site. But who is getting things just right? Check out our top 20 best brands from the world of beauty, homewares, clothing, plus food and drink to see who we regard as the leading accounts to follow.
Best Beauty & Skincare brands on Instagram
A huge beauty community on Instagram uses video and image-based content to sell products and share tutorials. The platform is home to 70% more beauty brands and influencers than on Tik-Tok and 10% more than the previous frontrunner YouTube. With beauty retailers, online stores, subscription services, and training all being promoted from Instagram, we have highlighted the brands we think are harnessing their audiences perfectly.
With 25.9 million followers and constantly increasing, Kylie Cosmetics is a beauty powerhouse on Instagram. Founded by reality star Kylie Jenner, the brand is an example of a celebrity-launched company that has become legitimate in its own right.
The feed features the perfect balance of product images, recognisable influencers, and posts from Kylie herself. Whilst this page keeps things pretty top level, by way of product information, the consistent content across the stories, reels, and posts that all have the signature glossy Kylie Cosmetics edits ensure everything appeals to the target demographic.
Part of Kylie Jenner's appeal to her younger audience is her style and look, and this Instagram feed is a brilliant representation of giving her fans what they want. The marketing comes across as effortless and relaxed, whereas of course, this is a lot of strategy and planning behind it.
Kylie Cosmetics Best Brands Instagram
Founded in 1994, Nars Cosmetics is a cosmetics and skincare brand that is popular amongst both amateur and professional make-up lovers.
We have chosen this Instagram account to make out exclusive list as we think the branding elements are on point. Not only do the images and video content shared scream quality and minimalism, which the products are known for, the branding colours flow effortlessly throughout. The use of story highlights also ties both user generated and brand content together nicely making the page a useful resource.
With clear call to actions throughout and the promotion of their own hashtag, we think this feed is the perfect example of a brand with history maintaining their image on a modern platform.
narsissist Instagram brand
Dove as a brand is a brilliant example of how a product can be used to access a broader messaging theme that concerns an audience.
Their Instagram account showcases the body positivity, environmental, and user empowerment work they take part in using a mix of relatable content. They use a mix of content that consists of own-produced organic posts and user-generated materials in both image and long plus short form videos. There is also a balance of posts that ensure the product selling call to action is effortlessly woven into content without coming across as pushy or too sales focused. Finally, their feed itself is full of inspirational content that includes clear taglines and keywords, perfect for instantly showcasing what their page on Instagram is all about.
Providing the ideal balance of brand awareness and sales activity, we think this page is a brilliant example of a strategic marketing campaign translated to the platform.
Dove Instagram brand
Essie is a nail polish brand that is popular worldwide. Their account has cleverly combined being a brand with being an influencer through the generation of what seems to be their own style of user-generated content.
With a feed full of product showcases, nail tutorials, and tips, they are providing content that users would expect to find from their favourite social media influencer accounts. As well as producing platform-relevant content, they are also using a campaign called 'Live Your Colour' to access the relatability market and encourage others to interact with the brand.
Finally, we admire their use of brand alignment throughout, with subtle nods to their polish colours in the form of highlight buttons and manicures that emulate the brand colours. This feed is full of cleverly targeted content.
Essie Instagram Brand
Real Techniques is an exciting brand created by Samantha and Nicola Chapman, who became famous as YouTube influencers.
As you would expect, the feed ticks every box when it comes to types of content and utilising in-built features, but we chose this account for our list because they have used the power of brand recognition throughout. Synonymous with the vibrant orange tones and pink hues you see below, they have created content that represents the branding alone and together.
Sometimes businesses forget that their content needs to be recognisable when viewed with many others on user home feeds, but this is something that Real Techniques considers.
Real techniques Instagram brand
Best Food & Drinks brands on Instagram
As the third most followed interest on Instagram, with 43% of users interacting with the content, food and drink offer a huge market for brand engagement. But selling something that often relies on sensory interaction can be a complex task through a screen. These top brands prove that using some clever techniques is completely possible.
Getting the branding spot on, the Waitrose Instagram feed portrays the same sense of luxury and exclusivity shared by their store.
As a food retailer, the number of products they can choose from is almost endless, yet they have managed to tie relevant trends to their content through clever links. They also feature a range of content types, with their two most popular ones being video shopping vlogs in stores and recipe image cards.
Waitrose doesn't rely on user-generated content on their feed from influencers but instead favours some well-known celebrity faces that appeal to their target audience effortlessly. Finally, all product shots are extremely high quality and vibrant, showcasing the importance of excellent assets on this fast-paced platform.
Waitrose Instagram Brand
Showcasing how content can be created that appeals to users outside of product-focused materials, Joe and the Juice brings together all the components that a young, health-conscious professional would care about.
With most of their efforts going on the feed content, the on-brand colours and taglines are woven throughout for complete continuity. We love the simplicity of the shots that let the products do the talking, and after all, an image does sell. Users love content that looks considered, and the photos on this post certainly do that. From statistics about recycling to a Jubilee message for the Queen in which she is wearing an on-brand pink coat, this feed is beautifully constructed.
Joe and The Juice Instagram Brand
Hendricks Gin offers an immersion into the world of Gin cocktails that leaves users feeling as though they have just experienced an insightful site tour.
With a mix of how-to's, product updates, brand history posts, and short-form video content, Hendricks gets their brand legitimacy across every piece of content. With being an alcohol brand, it is interesting to see that they do not use a hashtag or support a series name; instead, the feed is designed to be a knowledge base for anyone who already knows about the product and wants to find out more.
This content also still achieves high engagement as it encourages use as sharable assets relevant to their audience and broader communities. Finally, the graphics are high quality and playful throughout, providing that effort goes into their stream.
Hendricks Gin Instagram
Fun, colourful, and full of enticing images, Hello Fresh uses a mix of dynamic content that displays the easy-to-achieve nature of their meals.
We love their use of iconography, video content, product images, and of course, their links back to relevant events. Although the brand does lots of brand collaborations across YouTube and Tik-Tok, we appreciate that this feed isn't full of these recommendations to give it a unique feel. Some users don't like when the same content is repurposed, so we appreciate this approach.
Also, the bursting with content tagged page according to their promoted hashtag is a brilliant selling method.
Hello Fresh on Instagram
Our final food and drink recommendation is for Beyond Meat, a plant-based food company with global acclaim.
Their content provides inspiration and advice for anyone who is already plant-based or considering making a lifestyle change. Content is relatable and light-hearted, with many recipes, product promotions, and the odd celebrity brand deal was thrown into the mix. No matter the content, the logo or brand name appears in some form which encourages continuity and increases the engagement on posts.
This is a nice example of letting the product do the talking through strong asset creation.
beyondmeat Instagram Brand
So there you go guys. Another five solid examples of how to run Instagram especially if you are a food and drink brand.
Best Clothing brands on Instagram
With people spending less on non-essential items such as fashion, it is essential for clothing brands they stand out against the competition to secure the 72% of Instagram users that make purchasing decisions through the platform. We think these accounts sell their story in the best way.
With 52million followers and global recognition, it is no surprise that Zara is on our list. Whilst these statistics are impressive, this is not the reason that we have chosen them, as we believe that quality over quantity is essential when achieving meaningful engagement.
The feed makes this brand stand out as the images are all-encompassing of the same styling, meaning that even without a logo, the users still know where the content is coming from. Their feed also works in a colour-block style that you would expect to see on the website, bringing in the other digital platforms well.
Finally, the mix of video and image-based content in alternating order for the same products means that an asset with the same message is created in different ways for maximum reach.
Zara on Instagram
Joanie Clothing is a vintage-inspired retailer whose main selling point is its nods to nostalgic trends in clothing and accessories.
Their mix of reviews, user-generated content, and simply shot product images create an immersive space for their existing and new followers. They also use their signature fun font and icons well through posts, meaning they are recognisable no matter where the content is viewed. Their use of the hashtag #JoanieGal encourages audience engagement, whilst their use of various models ensures that their entire audience feels connected with the brand.
joanieclothing Instagram
Whether you love or hate them, Crocs is a brand that has seen an enormous increase in popularity over the past year, thanks to social influences.
Being a company that is marketed to males and females of all ages, its messaging tasks are complex, and that is why we think the work they have done on the Instagram feed is worthy of our top five. Like their product range, which is colourful and varied, their posts continue this theme with something for everyone being featured.
Content is family-focused and relatable, with a mix of light-hearted humour and more serious brand values woven throughout. They also post stories daily, bringing tagged content to this part of their page, which offers excellent testimonials and video content exposure.
Considering the brand strategy must be incredibly diverse for this multi-faceted company, we think their feed combines everything in a clear, storytelling way.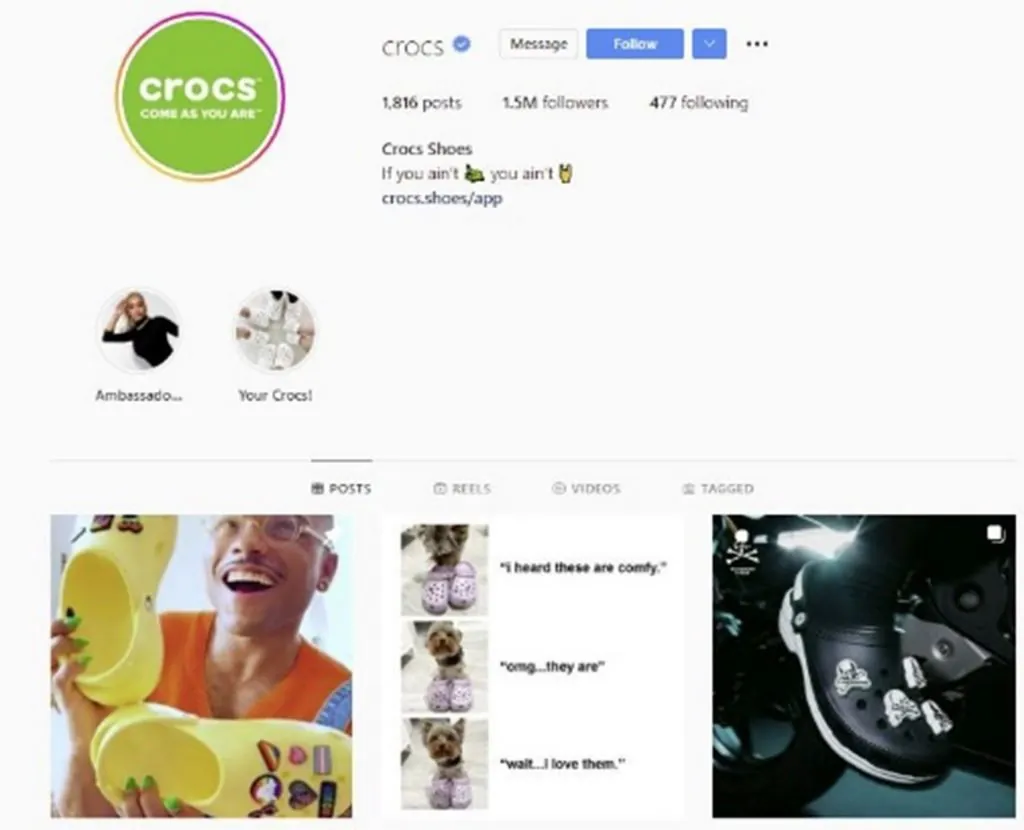 Croc on Instagram
As a clothing brand based on simplicity and sustainability, the Uniqlo content reflects its brand ethics nicely.
The highlight buttons and feed provide product updates, new release information, and topical features and offer continuity with the more expansive brand messaging. Using #Lifewear as the associated tag, broader themes related to the company are encouraged by user-generated content. The beautifully clean photography style and short-to-the-point messaging anchor what the business is all about.
Uniqlo on Instagram
As a fashion brand, Boohoo is a retailer that shares messages about body positivity by way of reaching a varied audience.
The content on their feed is a mix of inspirational quotes, various models, celebrity interviews, and of course, product images. Largely image-based on the main feed, the retailer also uses highlights and stories to bring products to life.
A common theme is bringing value to the user, whether it's a positive affirmation, styling tips, or generated comment discussions on a popular topic. Branding is also consistent throughout, with a contemporary filter being used on all shots and brand colours featuring in various ways throughout. The engagement rate is high on the Boohoo posts, as is the amount of tagged content showcasing that this is the type of content their audience wants.
We think that how they have woven their empowerment message throughout all forms of content demonstrates alignment with a marketing strategy in a natural way.
Boohoo on instagram
And there you go. Another five brands who have fully taken advantage and leveraged Instagram in their social media marketing strategy.
Top Homeware Brands
Homeware brands on Instagram thrive thanks to influencers such as Mrs Hinch and Marie Kondo, encouraging people to love their homes during the pandemic. The trends for sharing insights into home décor and styling mean that there is a big market for homeware brands on the platform. This mix of well-known and newer brands demonstrates how a business can be aligned with user trends for maximum exposure.
The well-known Swedish retailer, Ikea, uses Instagram as an extension of its website, which is essential as it is not a fully equipped eCommerce seller with the main route to purchase being in stores.
Using a mixture of own and user-generated content, the feed brings even the simplest products to life using home styling tips and support. The hashtags used on most images are also popular within the home influence communities, ensuring that the Ikea content is delivered to those who do not directly interact with the brand in the form of user-created assets.
Furthermore, some videos offer insights into room makeovers in the style of a TV home makeover show which incorporates long-form video into the account. As Ikea is known for its affordable homeware solutions, we think the way that this Instagram account incorporates design elements into every product is a clever use of brand-supporting imagery and messaging.
IKEA on Instagram
Olivia's has created a name for itself within the Instagram influencer community as a UK-based furniture and homewares online retailer.
Thanks to some high-profile brand collaborations and resulting content, the feed is a much-loved space for home trend followers. The photo and video content also represent the contemporary design thanks to the modern neutral colour palette with hints of foliage.
The account offers aspiration content throughout the feed and alternative forms of marketing through the stories and reels features.
Clean, simplistic, and modern, we love the brand-representing aesthetic that has been achieved here.
Olivias on Instagram
Desenio is an online retailer of posters and prints.
Known for their colourful and on-trend designs, their Instagram account offers lots of home inspiration styling, which always positions the prints as the core focus. Storytelling is achieved fantastically thanks to meet the team, behind the poster and brand insight posts which let the audience get to know the brand.
The feed is full of beautiful rooms and contemporary styling that suit the target demographic perfectly. Thanks to the creative layout, you would be forgiven for thinking this page belongs to a high-end London gallery!
Homesense has made our list as the content is perfectly relatable and calls to action based throughout every single post.
There is also a clever balance of brand positioning statements that involve the company's CSR work. As the retailer does not have a shoppable website, the page has been developed wisely as a brand awareness marketing activity which we believe it does well. This particular account produced quality reel content, both in short and long forms, which features a range of styling and home décor videos.
Also aligning with retail seasonal calendar dates and topical trends, the Instagram page understands who it is positioned to reach and provides the content to achieve this flawlessly.
Homesense Instagram
Last but not least, it is a brand that is not as well-known as some of the others, but that doesn't stop it from creating engaging content perfect for Instagram users. Weaver Green produces a range of content that can be used across different platforms.
The aspirational yet achievable styling that flows throughout highlights products in an instant. Accented with a calming sage green brand colour, they also manage to share their sustainability messaging through copywriting and asset creation to ensure maximum audience reach.
As well as using video content nicely, they also feature a mix of brand photography and user-style content in a way that creates a nice flow on the grid.
Weaver on Instagram
And that's a wrap. We finish with five amazing home brands that are using Instagram to build their brands.
Check out best brands on other platforms 
Ready to become one of the best brands on Instagram?
Instagram is a unique platform as its allows you to merge together the world of video and static imagery content in one place. Before creating content, a strategy is vital to ensure Instagram success.
As well as creating a balance between the content shared, you also need to consider the look of your page, call to actions, brand specific hashtags, and what in-platform communities you are targeting for maximum exposure.
Do you need help creating the right content for your Instagram feed? As a digital marketing agency with a team of design experts to hand, we are able to weave your strategic goals into audience engaging content. Get a free consultation by scheduling a call with Creative Marketing (NW) Ltd on 01706 318200 or contact us here.