If you're never used Pinterest and are wondering how advertisers exploit this massive strong community of users, then learning about the best brands on Pinterest is a great way to start.
Offering users a chance to create digital inspiration boards, Pinterest provides excellent click-through opportunities for companies, with 83% of weekly users making purchases due to being exposed to site content. With more than 400 million weekly users and 85% of the audience confirming they when they start new projects, they search the site; there is a strong community waiting to be interacted with.
Created as a community platform for sharing ideas and inspirations, Pinterest has seen a swift to eCommerce links over the past few years with features such as the shopping function and paid ads allowing brands the chance to operate strategically.
The site is popular amongst users as each profile can be tailored individually, allowing them to pin images, create boards, and share content with other accounts. This creative online outlet is famed for its collaborative capabilities and relatability, making it ideal for reaching new and existing audiences.
At Creative Marketing (NW) Ltd, we think that Pinterest is an excellent way to market to the modern consumer. People don't want to be directly sold at, and shoppers are becoming ever-increasingly wise to different forms of marketing. We, therefore, think that Pinterest allows users to be more in control and for brands to access them through cleverly designed content.
However, commercialising your company's Pinterest page is not an easy task. Some companies do, however, get it spot on, so we have pulled together our top 20 brands in one place for you.
Top Beauty & Skincare brands on Pinterest
Just like other social media platforms, Pinterest is popular amongst the beauty community. In fact, 98% of users confirmed they had tried a new product as a result of seeing it on the platform! The option to share both images and videos means that the world of influencers and brands alike can effectively post different forms of content for maximum audience reach. But who is acing the beauty Pinterest game? Here are our top 5 brands.
Lush is a cosmetics retailer that focuses on ethical production and natural ingredients as its main selling points. Across both their in-person and online platforms, their mission is to be a respected knowledge base for everything that their brand stands for, which we think they achieve perfectly with their Pinterest account.
As well as boasting a complete Pinterest shop of products, they created both image and video content that shares insights and behind-the-scenes information about the brand. If you have ever shopped in one of these vibrant stores, you would know that this emulates how staff members operate in the stores, so we think the signature branding here is used excellently.
They also use saved boards well, with relevant seasonal and product themes all defined so that users can easily interact with content and share it on their own accounts. Sharable content is done right on the Lush Pinterest account.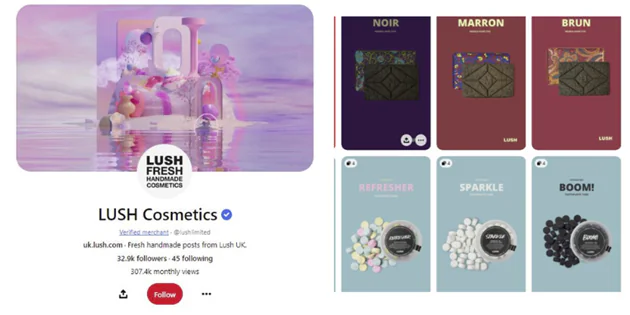 Lush Cosmetics Top Brands Pinterest
As a popular cosmetics brand that utilises all of its social media channels brilliantly, it is no surprise that Glossier has made it to our list.
The structure of their page offers an informative glance into the world of all things make-up and skincare through video and image-based posts. We think their content provides excellent user value with a mix of relatable themes that people would want to share, such as before and afters, make-up tips, and editorial style imagery. They also use their content well to encourage pinning and sharing for users, not just those directly interested in the products, which is represented in their 5 million monthly videos.
Finally, their feed offers a simplistic colour palette that nods to the products and company branding.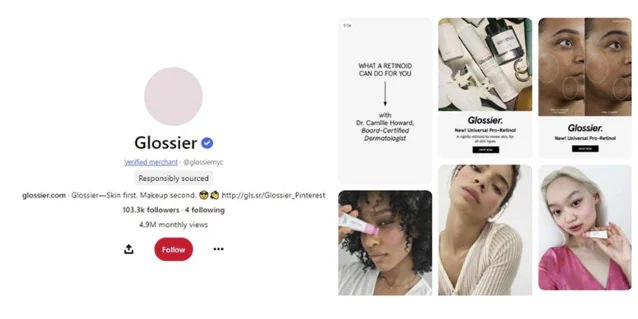 Glossier Pinterest Brand
Kiehls has made our list as it is a brand that offers a diverse product range, meaning its marketing requirements are equally as vast. Therefore, the way that they have combined content and messaging to suit a broad audience in one concise place is worthy of nothing as a best practice example.
Not only is their content informative, eye-catching, and branded well, but the copy is also SEO friendly with links to the wider beauty community to improve brand reach. As the product range is so diverse, they have also used the saved boards function well for highlighting individual solutions.
Finally, they have used their bio well to establish their authority within the industry and position as a knowledge leader on Pinterest when it comes to skincare solutions.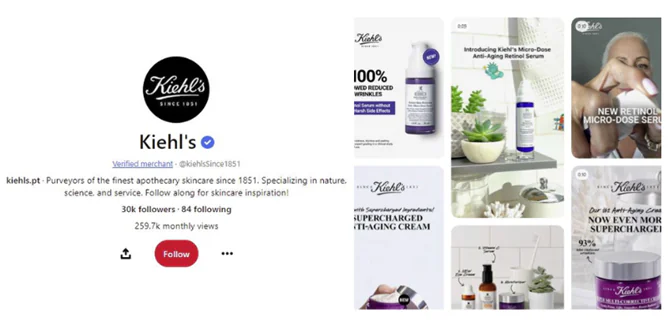 Kiehls Pinterest Brand
MAC cosmetics, known as Make-up Artistry Cosmetics, is a high-end brand that prides itself on being inclusive and professional. After breaking into the everyday consumer market through many digital marketing methods, including influencer collaborations, the brand is known for its sleek black packaging and quality products.
MAC is getting things right on Pinterest in several ways.
Firstly, their aesthetic is colourful, well-branded and made up of high-quality product shots and videos for an immersive look into the world of the cosmetics giant. Using a mix of video and imagery, they have been able to create an interactive experience when the content is both viewed as one page or when it comes up as separate pins in search results. They also use a mix of just product and people shots allowing for a mix of content.
It is also clear to see that their eCommerce strategy is woven into all posts, as they appear in an order which relates to both seasonal and product releases.
Sharable content is mastered perfectly, and brand messaging and make-up look shared for different types of user needs. Finally, hashtags and captions that align with popular themes are used for organic success on Pinterest.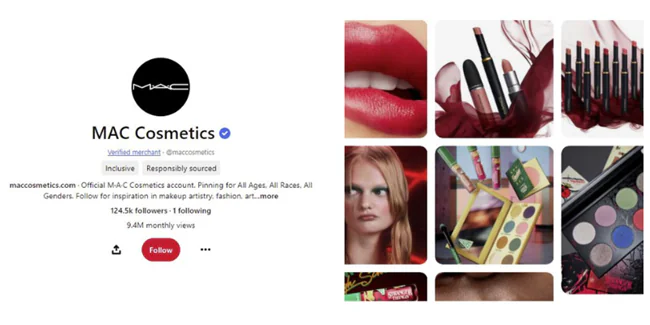 MAC Pinterest Brand
Finally, Iconic London has made our list as their images are the perfect example of how brands can grab attention when found away from the main page.
Known for their signature highlighting products and glamourous gold packaging, all content features dazzling colours and styling.
Featuring a shopping library for easy access to products, the content features several advice-style posts which work well as usable content. Encouraging users to pin through notes in the copy and adopt popular hashtags, they master the art of informative and sharable content perfectly.
Also, their boards are eye-catching, feature modern names such as 'Do it for the gram' and boast collections that would appeal to their target demographics beyond the beauty world.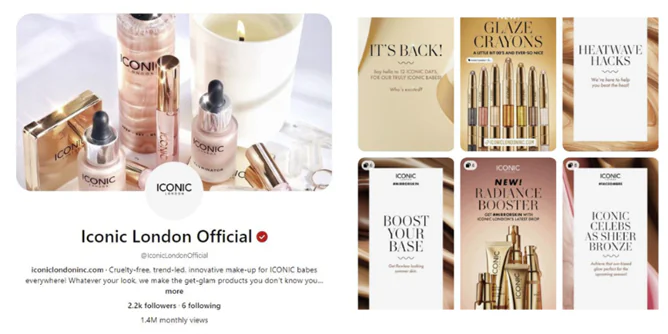 Iconic London Pinterest Brand
Best Food & Drinks brands on Pinterest
Pinterest offers the perfect place for food and drinks brands to share mouth-watering images, recipe ideas, and brand user-generated content in one place. With content posted on the site proving to be strong SEO tools, we think this is a must-have platform for food and drink companies to be represented. Let us tell you more about this with our top 5 brand examples.
The bio says it all for this retailer, 'welcome to the world of Hotel Chocolat'. What a world they have created!
This ethical cocoa grower and retailer has merged the world of fun confectionary with conscientious sourcing, resulting in a high-end range of chocolate and alcohol products.
The feed itself boasts mouth-watering product shots with various product promotions, recipe guides, and seasonal influences. This is supported by a fully stocked shopping section and product posts' links.
Content is designed to be both sharable and sales-led, which we think offers the perfect, effective balance for this high-end retailer.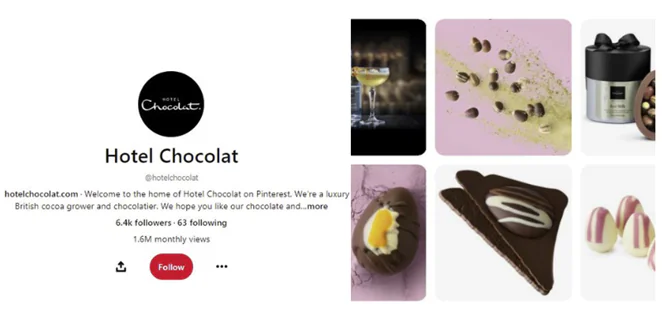 Hotel Chocolat Pinterest Brand
Having featured in our top 20 brands from Instagram, Hello Fresh also get things right on Pinterest.
Hello Fresh offers customers a quick and easy way to make healthy meals and reduce food wastage; hello Fresh is a postal meal service that caters to a selection of dietary needs.
Their range of different meal types are saved under individual boards, with more than 11,500 pins for users to interact with. Within each sub-category, they have also got the right messaging to make the most out of in-platform hashtags, searches, and broader SEO purposes.
Images are simple but boast the signature Hello Fresh filter that has become synonymous with the brand across all social platforms and on their website.
Whether images are being pinned as the user is a fan of the brand or just because the food looks delectable, their 6.1 million monthly views show that this company is using Pinterest very well.
Hello Fresh Pinterest Brand
Everyone knows the Coca-Cola brand, but we have chosen them for this list as we think the way they have translated their heritage content to this platform is excellent.
The boards feature the signature red pantone, which everybody knows for instant brand recognition.
The content that they post is relevant to current events, filled with tips, and also supports seasonal activities in a way that encourages users to share the content.
Finally, the way that they have expanded their brand reach in the form of saved boards which cover topics such as entertainment, recipe ideas, and associated products, encourages sharing from many different categories across Pinterest.
Coca Cola Pinterest Brand
Whole Foods take food Pinterest to another level.
The health food retailer creates nothing short of amazing content, which is perfect for Pinterest sharing. With guides covering everything from how to organise your fridge to what it means to select the perfect pear, we think that user of wider content topics here is genius.
All posts also feature either the logo or pay homage to the branding through the signature green colouring and distinctive typographic that lovers of the brand will know instantly.
They also showcase products well in the form of their own saved boards and encourage a call to action through cleverly written copy. Content is also optimised for in-platform searches using relevant trends and hashtags, and rich pins are used to enhance the shopping experience.
Whole Foods aces Pinterest for business in our minds as the platform is not designed to be a direct selling tool. Instead, they have found a way to engage with consumers through relevant content that leads to brand recognition and awareness.
Whole Foods Pinterest Brand
Finally, Jameson is an Irish Whiskey company that also manages to create valuable content for their products beyond the standard product itself.
Proving how their drink can be used all year round, they have managed to incorporate a healthy element of storytelling into their Pinterest content via shared boards that highlight product uses.
Their content also boasts a range of recipe ideas, product USP and fun images that people will want to share on their accounts.
Also, being an alcoholic product that is not suitable for all users to be pinning to their feeds, we think the branding offers a classy and prestigious feel which ensures it is perceived as a professional company.
Jameson Pinterest Brand
Best Clothing brands on Pinterest
Clothing is a competitive sector online, especially with the birth of fast-fashion and preloved retailers proving to be popular amongst modern consumers. With shopping engagement having increased by 20% in 2021 and self-styling tools becoming popular online, Pinterest is a must-have social tool for clothing brands.
ASOS offers a fun take on using Pinterest, with varied content highlighting the brand's personality.
With video and image content ranging from make-up tutorials to day in the life of the team members, users are encouraged to become a part of the ASOS brand through the pinning of content. Also, as we have mentioned before, people do not always want to be sold, and the way that ASOS seamlessly brings in products is well done.
They have over 30 million pins that cover all categories of products and produce SEO-friendly, sales-enabled content, that highlights a clear call to action.
Finally, their shopping feature offers a well-organised deep dive into the world of ASOS for easy shopping.
ASOS Pinterest Brand
Another example of clothing pinning done well is by H&M.
They focus on image-heavy content, which has a very editorial and professional feel that people would not necessarily expect to be produced by the Swedish retailer.
Whilst their products are not expensive, they have managed to create an aspirational feel to their content which, with over 10 million monthly views, is liked by the Pinterest community.
Finally, their saved boards, with over 7 million assets, break down the product ranges well and are nicely targeted to each consumer group.
H&M Pinterest Brand
Puma uses its celebrity brand ambassadors and position as a hybrid brand between fashion and athletics well on Pinterest.
Again, using the theme of professional imagery, which seems to be apparent between clothing brands on the site, Puma appeals to a wide audience through the diverse use of models and products. Whilst they have over 10 million views a month, they do not have as much content as some of the other pages, representing the power of published posts.
All content has SEO-friendly tags and shopping links, indicating that the main purpose is for the consumer to shop. Having said this, though, the value that that can add to individuals' boards using the editorial style imagery means this is cleverly achieved.
Fun and fashionable, Puma establishes itself as a professional brand on Pinterest.
PUMA Pinterest Brand
Lululemon is a gym retailer that has created its own space on Pinterest as a knowledge leader in the fitness world.
They are targeting the marketing of pin-worthy content with how-to's, product USPs, and beautiful imagery. This is further anchored by their tagline, which reads, 'Creativity is maximized when you are pinning in the moment'.
This form of brand adaptation to a social platform shows a sincere approach which consumers appreciate.
Lululemon Pinterest Brand
Ted Baker is a British clothing and accessories brand targeted at a mix of demographics.
Offering an abundance of fashion inspiration, their Pinterest is filled with editorial images and videos that aim to encourage personal style pinboards.
All images are supported through shoppable links, and SEO-friendly descriptions mean their search functionality in and off the platform is strong.
What is interesting about the way that this brand uses their saved boards is that they used them to share more about their brand messaging. We think that how they have distinguished their shopping feature from the use of pin-strategy highlights a successful way to share the core values with new and existing consumers.
Ted Baker Pinterest Brand
Top Homeware Brands On Pinterest
The pandemic meant that people were spending more time in their homes, which increased the popularity of homeware brands online. Popular home-related searches on Pinterest have seen increases of 50% or more in search volume compared to 2020 figures, representing that the platform is the place to be for homewares brands. But it's not just about posting some lovely images and hoping for the best. These top 5 offer the perfect balance of strategy and organic content.
Ikea is a Swedish homewares brand with worldwide recognition.
Their Pinterest account features a range of images that all boast the signature logo to ensure that when shared on wider pages, their brand name is not lost. This is important as Ikea's selling point is that they are an everyday retailer with standard products that are not unique to the brand itself.
Instead, the attainability and ease of styling in various settings are what people love, and that is the message also shared by this account.
Designed to encourage sharing, Ikea ensures shopping links and a clear call-to-action feature on all posts, setting them apart from the other beautiful room shots that fill the Pinterest feed.
Ikea Pinterest Brand
The Container Store has made the most out of people's love for organising their homes perfectly.
Popular Netflix TV shows such as Tidying with Marie Kondo and The Home Edit have meant that people worldwide have fallen in love with the art of keeping things aesthetically tidy. The nature of their products means they are perfect knowledge leaders within the field, and their 10 million plus monthly views represent this.
Clear links to shopping, sharable content, and a beautifully organised collection of boards make this page an organisation lovers' dream.
The Container Store Pinterest Brand
Whilst not exclusively a homewares retailer, Not on the High Street offers the connection to real-life relatable content that people tend to look for when using Pinterest.
This brand stands out regarding their use of the saved boards as they have used their product offering well to appeal to many different search categories within Pinterest. This content-heavy approach also means that website content can be repurposed in a seamless way.
As well as having an insight into all product categories via their shopping function, their business model of stocking smaller brands allows them to harness in-platform hashtags and topics around popular topics such as homemade, handmade, small businesses, and local creators.
Perfectly adapted to the audience that Pinterest provide for them, Not on the High Street has made our list as we think they blend into the platform seamlessly whilst still offering a clear shopping route.
Not on the High Street Pinterest Brand
If you want an example of a business making the most out of eCommerce strategy, then look no further than Ruggable.
Firstly, their feed is full of not just product images like most of their competitors, but instead styling tips and product advice, offering a relatable element to the consumer. They have also aligned this with broader interests such as pets, families, and entertaining to ensure that the product can be incorporated into different search fields within the platform.
Their shopping features also allow users a clear channel to check out, ensuring that the Pinterest portion of the user experience is the main component to achieving a sale.
They also treat their saved boards as aspirational Pinterest accounts, offering beyond brand looks at décor, styling, trends, and general family life, which appeals directly to their audience.
We think Ruggable use Pinterest as the base of their customer's journeys, and how this has been incorporated into their more comprehensive eCommerce plan is nothing short of excellent.
Ruggable Pinterest Brand
Last but not least is Swyft, a contemporary furniture retailer that was established as a solution to eliminating long waiting times for product deliveries.
Their profile set-up represents their streamlined product sourcing methods with simple shopping functionality and a set of consistently designed graphics.
They also use mood boards well, which a lot of homewares brands miss out on. This is effective as instead of a user needing to spend time browsing endless images and creating their boards; they can access instant aspirational content that helps them picture what that product would look like if it were theirs.
We think every aspect of this Pinterest account embodies the brand's promise to offer a simple solution to supply chain issues, and it is that brand continuity which has earned it a place within our top 20.
Swyft Home Pinterest Brand
You've learn't about the best brands on Pinterest. Now checkout the best brands on other social media platforms.
Top 20 Best Brands on TikTok

Top 20 Best Brands on Instagram
How can you use Pinterest to elevate your brand exposure?
We believe this can be achieved in three simple stages; Strategy, Assets, and Exposure.
At Creative Marketing, we can help you weave eCommerce strategy into every aspect of your social operations for maximum return on investment and consumer engagement opportunities. Pinterest requires consistent activity, trend alignment, and aspirational imagery and video content that users will want to represent their brands on the site.
You need to make people want to share your content first and foremost, with the sales call to action, then become a natural progression through the customer-created journey.
As a digital marketing agency with a team of design and social media experts to hand, we can weave your strategic goals into excellent Pinterest-worthy content. Get a free consultation by scheduling a call with Creative Marketing (NW) Ltd on 01706 495091 or contact us here.