Whether you are a fan of Twitter or not, it is undeniable that this platform powerhouse is brilliant for engaging with consumers at a conversational level.
Founded in 2006, Twitter has over 390 million users as of 2022. The site is a conversation-style forum which encourages users to engage and comment on threads. Twitter is a complex affair regarding business marketing, but it has proved for brands that get things right, the benefits can be plentiful, with users likely to spend 26% longer viewing ads.
There is also room to get creative and use Twitter as a hub for various forms of content. We think the following companies showcase Twitter usage in 2022 at its finest.
Top Beauty Brands
Beauty on Twitter is a massive market that brands can't afford to miss out on. In 2021, the word 'beauty' was featured in over 31 million posts, a 257% increase in usage in 2020. As well as being able to promote products and share user experiences, beauty brands have the option to engage with consumers on a conversational level on Twitter. This is important as with so many products on sale; consumers often need support in choosing what is right for them. Want to know who is acing the beauty Twitter game? Keep reading.
ColourPop Cosmetics seems to get social media across all platforms, with their Twitter feed no exception. The brand is marketed towards a younger audience which the content is perfectly reflective of in the form of memes, competitions, and trendy make-up looks.
They also do not use hashtags but have strong calls to action throughout their posts to encourage people to follow them and stay up to date. This is a great method to adopt for younger demographics as they may not be as likely to follow a hashtag, instead searching for the type of content that they want directly.
Finally, they have a perfect tone of voice that continues through posts to replies within comments. ColourPop has ensured that its Twitter feed comes across as one friend talking to another, which is what the platform is brilliant for achieving.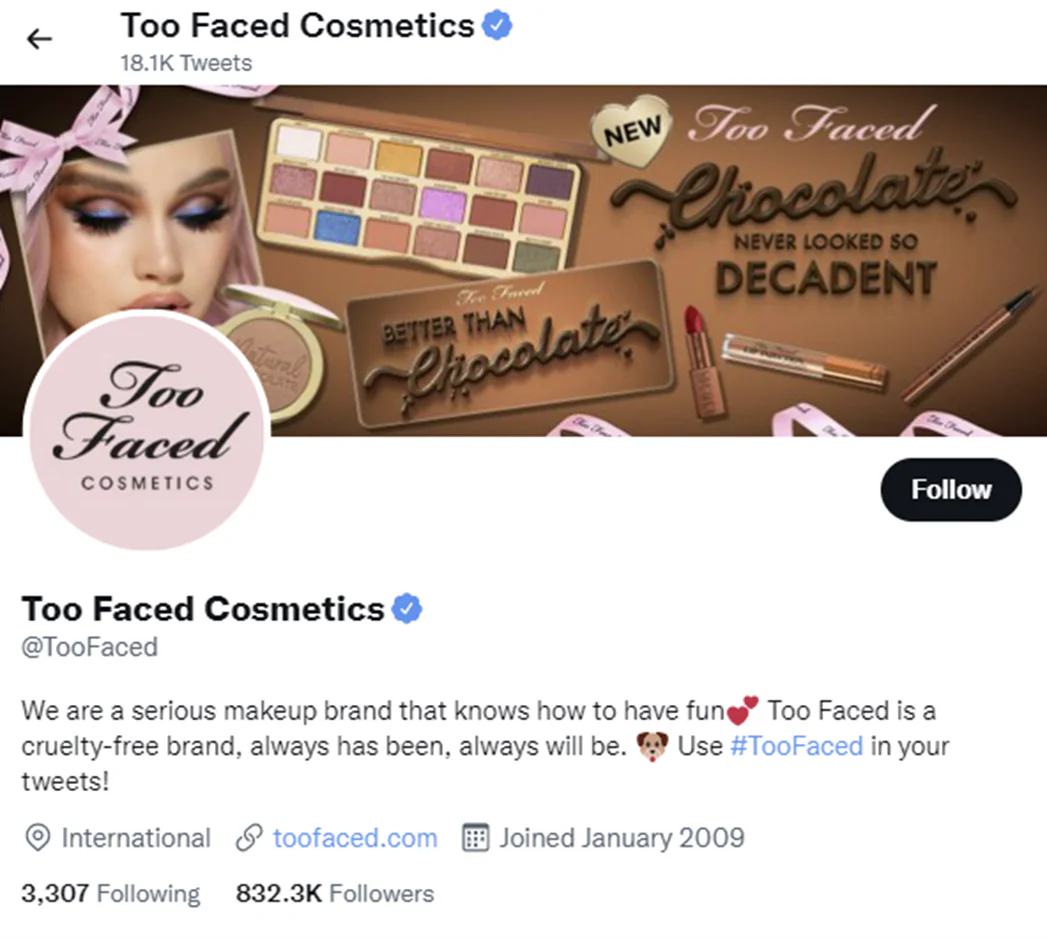 Too Faced Cosmetics has made our list as they have managed to create a brilliant and immersive international community on Twitter. This global brand has unique products that are also marketed as cruelty-free, a popular unique selling point within the beauty industry.
From the first read of their bio to the use of hashtags and emojis throughout, it is obvious to see what the company stands for. This is super important to achieve on Twitter as users are intended to scroll through rapidly as an asset accompanies not all posts.
Most of their posts feature images, but it's good to see that they have a mix of word threads to mix up the content. Finally, their use of quality product images perfectly matches their broader company branding, meaning that if anyone came across a post, they would instantly know who the brand was.
e.l.f Cosmetics, otherwise known as eyes, lips, face, is a budget-friendly brand that has been a popular choice within the influencer communities for years.
They have made our list as they get everyday conversational tweeting just right. Whilst it is tempting for brands to promote products within every post, e.l.f proves that a mix of content can work perfectly for Twitter engagement.
Their short captions feature affirmations, questions, polls, and generation beauty questions designed to get followers talking. 37% of 18–29-year-olds use the platform, which aligns with the brand's target audience. Therefore, they clearly understand who their customers are by jumping on hashtags to do with other interests such as popular culture and pets.
As other social media platforms, such as Instagram and TikTok are favoured for video and image content, it's great to see that e.l.f don't just repurpose the same content and instead, tailor their Twitter content to those unique users.
Palmers is a body and hair care brand with a large customer base due to being founded back in the 1970s. They prove how an optimised bio can be achieved using partner company Linktree to provide straightforward customer journeys for their extensive client base. They have a well-planned call to action for their Twitter audience with links to their charitable connections, products, and other social media platforms.
The Twitter algorithm relies on keywords within posts and hashtags that Palmers get just right.
Their content is also nicely varied, with infographics, lifestyle photos, videos, gifs, and user-generated content used to share their brand message.
The last of our beauty picks is Foreo, a Swedish company that specialises in skin care products and tools. Having achieved their consumer popularity using high-profile influencer deals, their Twitter feed is a refreshing step away from their other feeds, which are largely filled with user-generated content.
Foreo instead chooses to share product insights in an authentic way which suits Twitter's use as a news source by at least 69% of people. This is further enhanced by the blogs and extended threads that they promote and share on their feed.
Top Food & Drink Brands
Twitter is an excellent platform for food and drinks companies to leverage the reactive consumer. A brand can create engaged communities by posting at keys and offering themselves as a solution to upcoming needs. Check out our selection of companies who leave the consumer wanting another bite!
Who better to start with than the winners of the 'Best of Tweets Brand Bracket' 2022, Skittles.
This fun feed took the prize after showcasing a brilliant use of community building using the hashtag #RallyForTheRainbow. From the moment you read their bio, look at their funny tweets, and see the spirit of their followers within the comments, you realise that Skittles offers followers a fun form of escapism from their daily lives.
Their witty one-liners and memes are designed perfectly as sharable content. The brand is a household name for many, so directly selling products is not their goal. Instead, they have been able to add a modern image to this older brand that keeps their brand name fresh in the minds of many different generations of consumers.
Oreo's are popular products worldwide that offer different products in different markets, making their social promotions a bit more complex.
Cleverly, they use their products to jump onto reactive trends that are common themes on many other social networks. From their promotion of pumpkin-spiced products aimed at those who love autumn more than summer to their party cheesecake recipes, they produce the perfectly desired content.
Oreo also creatively use threads to post competitions such as word searches and crosswords, which is a brilliant way of increasing engagement. We like to see innovative new ways to use social platforms, and Oreo really stands out for how they have modernised Twitter.
Yo! Sushi's delectable feed is enough to make you hungry, even if you have only just eaten!
The signature bright colours and quality images grab the attention of people scrolling through their Twitter feeds. They also ensure their posts stay current, with nods to TV shows and events that their target audience is likely to be interacting with.
They also cleverly only use video content when promoting a new product or as a re-share of user-generated material. This means that followers, who are interested in those forms of content, instantly have an idea as to what the content will be about.
High-profile brand collaborations, including Disney and Little Moons, are also promoted, improving their cross-profile engagement levels.
Smart Water is an example of a brand that keeps things simple, and it really works. Their short bio is a fun take on what their product would be used for in other contexts.
All assets feature the signature clean white backgrounds with blue accents and put the product at the centre of any content. The tone of voice is simple and light-hearted to appeal to as many people as possible.
Most of their content is video-based, a popular way of engaging users. These posts do work well as they have the highest levels of engagement throughout their feed.
The reactive content they choose to align with also represents their position as a more expensive water brand. Content themes such as sharing images from the annual MET gala to professional product shots with celebrity models all enhance the brand's message without needing to use hashtags or long lines of copy.
Our final food and drink brand is McDonald's, which gets conversational posts just right!
Their signature red and yellow header banner and the fun tagline are the perfect way to unlock memories for many users who would have grown up with the brand being a staple. Their posts are also simple one-liners, which play on both Mcdonald's representation within popular culture and reactive themes across other social media channels.
Interestingly, they also share posts that people give them negative feedback to align with customers on the same level. With 94% of consumers preferring transparent brands, Mcdonald's is using their mistakes to their advantage to resonate with consumers and admit when they are wrong.
Top Clothing Brands
With 16% of users on the site admitting they visit Twitter to find new brands, having an established presence on the site is important for clothing companies. Fast fashion and a reduction in disposable income for many are just two trends that have impacted the type of content that is successful on Twitter. We think these brands use the platform well to promote products while sharing information about what their company stands for.
With 8.5 million followers, Marc Jacobs has a huge Twitter following and for a very good reason.
Concise tweets always perform best, with posts with 100 characters or less being best received by consumers. Marc Jacobs use their captions in a succinct way that is reminiscent of a magazine photo caption in the likes of Vogue. The structure of their captions is also unique, giving a sense of exclusivity to their followers.
Translating a luxury brand onto social media can be a complex task, but we think that Marc Jacobs shows how it can be achieved in a way that is relevant to the platform but still authentic to the brand.
Swedish clothing retailer, H&M, is one to watch regarding Twitter campaigns.
Whereas on other social media platforms, extended captions and hashtags galore are a great way to expose content to a broader audience, a simpler approach works for Twitter. They also use their Twitter as a platform purely for campaigns and new launches, which showcases that it has been well considered with their wider social strategy.
We also think that the user of both in-feed and shared videos from their own YouTube channel is cleverly used to mix up what is the same content. This allows H&M to reuse content across channels but not in an obvious way.
Budget-friendly clothing and homewares retailer, Primark, has their work cut out when it comes to socials as their call to action is ultimately to visit stores. They have long been hailed for getting their digital marketing right, with Twitter no exception.
Like the fast-paced nature of their fast fashion products, their feed is full of multiple daily posts with a mix of images and caption-only posts. Strategically timed to land when their audience is likely to be scrolling, their content leaves consumers wanting more, with new releases promoted almost daily.
There is also something for everyone due to the unisex and multi-age product portfolio. The balance of content targeted at various user personas is managed perfectly. They also use a slight tone of voice variances depending on who they are talking to, which is expertly done.
Primark has got the brand awareness task down to a fine art as a brand with no eCommerce store.
Sports giant Nike use the power of storytelling amazingly on Twitter.
They take advantage of the use of rich media perfectly, with a range of video and image-based content supporting all campaigns. The vibrant mix of content echoes their tagline of staying active perfectly, which means consumers are kept on their toes.
Nike also offers a good balance of types of content, with a mix of product promotion, user-generated content, and brand ambassador promotions.
Finally, they also use polls and image posts to share the history of the company which is perfect for resonating with older consumers and appealing to new ones. As a brand for everyone, Nike showcases their commitment to providing content for various consumer groups well on Twitter.
Barbour is a brand that sells high-quality outdoor apparel aimed at the more affluent consumer.
They use their company hashtag well throughout posts to encourage user-generated content and review sharing. The very nature of their products means that their audience will be outdoor people with a love for relevant pursuits. Content is therefore well-tailored to outdoor dates in the social calendar, which means their engagement levels are consistent.
Captions are kept simple, and product images are left to do the talking, adding to Barbour's exclusivity. They also use keywords to appeal to consumers and appear in search results.
Barbour does storytelling and product promotion well on Twitter.
Top Homeware Brands
76.3% of Twitter users are aged over 25, which is the ideal demographic for homewares companies to target. With users looking for factual information that helps inform their buying decisions, we think these brands showcase how the world of home styling can be incorporated into a beautiful Twitter feed.
West Elm is a popular homewares company that uses aspiration living to promote products to consumers.
You would be forgiven for thinking West Elm's feed was a beautiful Pinterest show of modern home styling tips. They use short captions, clear calls to action, and stunning images well to create their own immersive space within the Twitter app.
Twitter for West Elm is also used as a behind-the-scenes look at shoots and campaigns, with some of the content being exclusive to the platform only.
Finally, they use keywords relating to sustainability and interior design well throughout their captions to improve audience reach and beyond-platform SEO visibility.
Online homewares retailer, Wayfair, is another brand that we think sells aspirational home décor well via their Twitter content. Wayfair offers multiple price points and products, making it ideal for a range of consumers, which is apparent from their feed.
They have bright 'flash deal Fridays' posts which, although offered across different social platforms, have a feeling of exclusively on Twitter.
Their content is also tailored well to the busy lives that their target audience has. Instead of just promoting products, they also add in relatable topics such as summer recipes using their cookware items.
Finally, Wayfair uses concise captions and short videos with overlaid text to share messaging without using threads to extend their messaging. This works well for users who may be using the app without sound. It also ensures that the intended product information can be shared without the user needing to look to another source for more detail.
As the popular extension to high-street store Zara, Zara Home has developed a brand image in its own right thanks to a clever social strategy.
Their Twitter is used for images and live video content, which is all focused on products.
Instead of sharing as much detail as they do on other platforms, their Twitter is full of scrapbook-style photos that encourage user sharing even if they are not fans of the Zara Home brand.
This subtle way of selling suits the fast-paced nature of Twitter perfectly, as brands need to become a part of a user's daily feed to start building a connection with them. You wouldn't necessarily know this is a high-street homewares retailer at first glance which works to Zara Home's advantage.
Twitter is often used as a customer service channel by brands and consumers due to the ease of interaction that it offers. Instead of consumers having to spend ages looking for contact details or getting transferred to never-ending call centre loops, Twitter provides a way to solve issues instantly.
Made.com has earned a place on our list as they execute Twitter-based customer care well. They have their own Twitter feed, which is tagged within the bio for ease of use. Interactions are also encouraged in comments on photos, with the team frequently engaging in conversations with consumers.
Aside from that, the posts that integrate are full of information, advice, tips that lend themselves to home styling, and much more. The variety of images and videos plus live threads offers consumers a different way to engage.
Customer service engagement on Twitter at its finest!
Finally, we have The White Company, which is a luxury retailer that was founded in London.
They have made our list as they tailor content perfectly to their slightly older audience by integrating a mix of media that would appeal when found within a feed. They also ensure that all assets represent the company perfectly without requiring a logo to be included.
Posting content that integrates with other relevant themes is also essential, and we think The White Company commits to the causes they are talking about. Instead of a quick tweet, they produce high-quality graphics and engage other users to take part in associated discussions.
This form of value-adding is essential for brands to harness.
You've learnt about the best brands on Twitter. Now check out the best brands on other social media platforms.
Do you feel confident in your Twitter strategy?
Twitter is a complex platform that requires some strategic content planning.
If you get things right, you can harness the power of authenticity and conversational marketing to resonate with consumers on a deeper level than possible on other social platforms. However, if you don't stand out within your followers' feeds, you will get scrolled past.
As well as creating unique content and using keywords cleverly within captions, you also need to ensure that you are using features such as threads and polls to connect with your followers.
Do you need help tweeting successfully? Get a free consultation by scheduling a call with Creative Marketing (NW) Ltd on 01706 495091 or contact us here.