In the last five years, Facebook Ads have undergone a significant transformation in the social media advertising industry. However, what triggered the major developments in Facebook advertising statistics in 2021 and 2022, and how can marketers leverage on this?
Mark Zuckerberg has led Facebook through its different phases of development over the past 17 years. As we all know, it started from FaceMash and today it's Metaverse. Facebook has continued to be one of the top social media platforms in the world.
With 59 per cent of the global population of social network users using Facebook as of 2020, the platform will continue to be the dominant social media app in use.
In September 2021, Facebook had 2.91 billion monthly active users. This was a 6% increase relative to the previous year indicating a rapid increase in the global reach of this platform.
Facebook continues to be the dominant platform for people to interact, read the news, and pass time. If Facebook advertising isn't currently an element of your social media marketing plan, you should include it today.
At Creative Marketing (NW) Ltd, we believe that using Facebook advertisements can help you reach your target customers online and generate revenue for your firm.
Let's examine some crucial Facebook Ads statistics that can help you make the best marketing decisions.
Facebook Ads Statistics
1. Facebook is the third most visited website globally
With 11.74 billion monthly visits, Facebook is one of the most popular websites in the world, only surpassed by Google and YouTube. This points to the fact that when people are online, there is a great possibility that they are using Facebook.
With 45.41 billion cumulative monthly visits as of November 2021, Google.com was the most visited website globally. Since June 2010, when it surpassed Yahoo to take the top position, the online platform has maintained its position as the most popular website.
More than 14.34 billion visits were generated on YouTube making it the second most popular website after Google.
Most popular websites worldwide as of November 2021, by total visits
2. 10 million advertisers are active on Facebook (Meta) platforms as of third quarter of 2020
Advertisers are present and active across all Meta platforms, including Facebook, Instagram, and WhatsApp. According to Statista, 10 million active marketers used the social networking site in the third quarter of 2020, up from 7 million in the first. This shows a 3 million increase from the 7 million advertisers in the first quarter of the previous year.
Facebook advertisers have multiplied significantly in recent years. In reality, there were just 3 million active advertisers on Facebook at the beginning of  2016. By the third quarter of that same year, it had surged by a one- third to four million.  A year later, in the third quarter of 2017, there were twice as many Facebook marketers amounting to six million.
This number remained constant until the beginning of 2019 when it increased to seven million. Research based on 2019 Facebook data shows that the top 100 companies (in terms of ad spend) spent $4.2 billion on Facebook advertising, which is about 6% of the platform's ad revenue.
The number of advertisers has more than tripled in less than five years, and growth has accelerated in recent quarters.
Source: Statista
3. Facebook's annual ad revenue worldwide was $115.66 billion as of 2021
The COVID-19 pandemic caused many establishments and small businesses to relocate their operations online, which led to an increase in Facebook ad spending. Facebook had a 25% increase in annual revenue during the year 2020.
In 2021, the Family of Apps business segment of Meta (previously Facebook Inc.) alone brought in about 115.66 billion US dollars in revenue. Facebook, Instagram, Messenger, WhatsApp, and other services are included in the social media company's FoA, and advertising sales dominate the segment's revenue.
Source: Statista
4. Facebook's advertising revenue as of third quarter of 2021 was $28.2 billion
In 2021, Facebook ad revenue is still going strong, retaining similar rates as at the height of the COVID-19 pandemic in 2020. This signifies that Facebook marketing and advertising are here to stay.
Facebook generated approximately 28.3 billion dollars in total advertising income in the third quarter of 2021. 734 million dollars in revenue came from other sources. Facebook changed its name and brand to Meta Platforms towards the end of 2021.
In the first quarter of 2022, advertising continued to account for the majority of Meta's Family of Apps segment revenue, which generated approximately 27.21 billion dollars.
Source: Statista
5. Conversions are the primary campaign objective for roughly 27% of Facebook advertisements
Conversions are without any doubt the most popular advertising objective for Facebook ad campaigns because they provide the most revenue for businesses. While 26.94% of advertisements are conversion-oriented, 24.19% are post-engagement-oriented, and 22.64% are link click-oriented.
Despite the fact that these campaign goals can assist people in achieving measurable outcomes, campaign objectives and goals that benefit the other stages of the sales funnel such as brand awareness and event responses shouldn't be disregarded.
Source: Socialinsider
6. The average Facebook CPM (Cost Per Thousand Impression) is $13.59 for all industries as of July 2022
As of July 2022, the cost per thousand impression (CPM) for all industries is $13.59.  The chosen campaign objective, however, affects how this figure fluctuates. The cost of Facebook advertising is greatly influenced by supply and demand because Facebook ads are offered in an auction system.
You can access a variety of tools and settings when you set up a Facebook ad campaign to help with cost management. The cost of Facebook advertisements can be seen in one of two ways: as the amount you want to spend on a campaign or as the amount you want to pay per result.
Source: Revealbot
7. The average click-through rate (CTR) for Facebook ads is 0.90% for all industries
Advertisers with high Facebook CTRs are in the retail (1.59%), apparel (1.24%), beauty (1.16%), and fitness (1.01%) industries. However, the legal sector still holds the record for the highest CTR on Facebook with 1.61%. The retail, fashion, and beauty and fitness industries generate high CTRs, whereas the job training and legal sectors have some of the lowest average CTRs.
This is because the latter sectors often use models and outstanding pictures in their eye-catching and innovative advertisements. The key takeaway is to invest in attractive pictures for your advertisements, regardless of the sector you are in.
Source: Wordstream
8. The average cost per action (CPA) for Facebook ads across all industries is $18.68
The average CPAs on Facebook for automotive, home renovation and IT services are $43.84, $44.66, and $55.21, respectively. Of course, in some sectors the lifetime value of a new customer is extremely high, making it all profitable in the end.
It will cost you more money than ever before to reach your target audience on Facebook and persuade them to do a particular action in response to your ad. Though CPA rates vary by industry, it's essential to take into account the importance of a customer's action to your overall growth and revenue goals.
Source: Wordstream
9. The average conversion rate on Facebook ads is 9.21% across all industries
Lead conversion ads have helped to significantly increase conversion rates because they tend to be often used in sectors like fitness, healthcare and education.
With an average conversion rate of 14.29% from Facebook advertisements, the platform can put motivated prospects in the hands of fitness advertisers and assist them in converting at exceptionally high rates.
Other sectors with high conversion rates include education at 13.58%, employment & training at 11.73%, healthcare at 11.00%, real estate at 10.68%, and B2B at 0.63%. These sectors surpass the majority of other advertising platforms thanks to Facebook's exceptional lead generation ads!
Source: Wordstream
10. The average cost per click (CPC) for Facebook ads is $0.978 across all industries as of July 2022
Based on statistics gathered from advertisements that only reached American audiences, the average cost per click (CPC) for Facebook advertisements is $0.978 across all industries as of July 2022.
The CPC on Facebook will always vary from one marketer to another because good performance is dependent on so many things. Some of them include the sector, the product, the audience, etc.
The CPC should be compared to a few of your previous ones in order to determine whether you're getting a good CPC over time.  It's important to keep in mind that bottom-of-funnel advertisements will naturally have higher CPCs than top-of-funnel campaigns.
Source: Revealbot
Facebook User Statistics
11. 71.43 per cent of internet users in the United States use Facebook regularly as of 2022
Facebook continues to rank among the most popular social networks in the US. According to 2022 statistics, 71.43 per cent of American internet users regularly use Facebook.   The percentage of the digital population utilizing social networks is expected to reach about 75% by 2027. Facebook, YouTube, and WhatsApp were the top three social media platforms as of January 2022.
Source: Statista
12. 98.5% of users globally access Facebook on a mobile device
It is hardly surprising that Facebook constantly ranks as one of the most-downloaded applications globally given its extensive mobile user base. The Facebook app itself, Facebook Lite, Facebook Messenger, Facebook Pages Manager, and Facebook Local are just a few of the apps made by Facebook.
Your best option for efficiently reaching the average Facebook user is to optimize your Facebook advertisements in a mobile-friendly way in addition to the normal desktop view.  You can improve your Facebook marketing strategy by concentrating on mobile advertising as it will help your adverts reach your target audience.
Source: Statista
13. India is the country with the most Facebook users
India is the leading country worldwide with 329.65 million Facebook users, with around 239.65 million active users there alone. To put this into perspective, India would have the third-largest population in the world if its Facebook audience were a nation.
In addition to India, there are a number of other markets with Facebook users above 100 million. The United States for example with179.65 million users, Indonesia with 129.85 million, and Brazil with 116 million users.
Image showing India with the highest number of Facebook users as of January 2022
Source: Statista
14. Facebook has roughly 2.93 billion monthly users globally
As of the second quarter of 2022, Facebook had over 2.93 billion monthly active users, making it the most popular online social network globally. It took the platform just over 13 years to achieve two billion active users, which was attained in the second quarter of 2017.
Comparatively, it took Google's YouTube just over 14 years and Meta-owned Instagram 11.2 years to reach this level. As of January 2022, India had the largest audience on Facebook, with approximately 330 million users, followed by the United States, with about 179 million users. Brazil and Indonesia are some countries where the platform is also remarkably popular.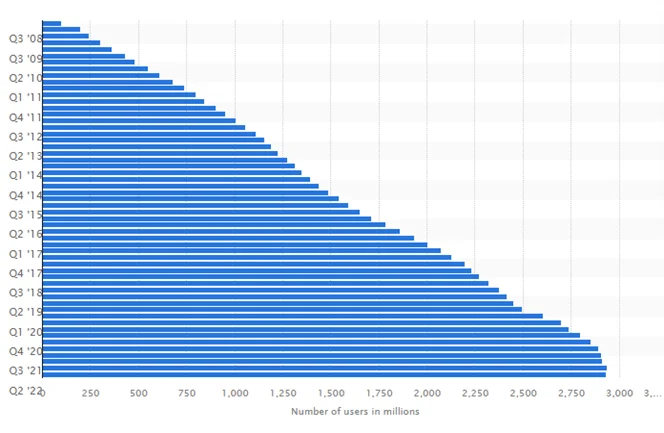 Source: Statista
Facebook Demographic Statistics
15. Women between 18-24 make up 9.3% of Facebook users as of January 2022
With a reach that extends beyond social media, Facebook is one of the biggest online companies in the world. As of January 2022, it was reported that men between the ages of 25 and 34 made up the majority of Facebook users (18.4%), while women between the ages of 18 and 24 made up 9.3 per cent of the platform's viewership.
This indicates that Facebook advertisement could be a breakthrough for any marketer who is into men's products. Reaching out to the male demographic on Facebook would be a very effective business strategy for such marketers.
Source: Statista
16. About 51% of U.S. teens used Facebook as of 2018
Teens continue to use Facebook to a significant extent in the US, despite Facebook's policy on restricting advertisers from targeting persons under the age of 18 globally. In light of the fact that you might not be able to execute precise targeting for teenagers, take into account how they might respond to and encounter your Facebook advertising.
Teenagers in the US were interviewed between March and April 2018. At that time, fewer people (51%) who were between the ages of 13 and 17  reported using Facebook compared to a survey carried out on the same age group between 2014 and 2015 which was 71%.
In 2018, Snapchat (69%), Instagram (72% and YouTube (85%) were the most popular social media platforms among teenagers.  According to the survey carried out between 2014 and 2015, Facebook was used by a lot of teenagers.
Source: Pewresearch
17. 56.6% male of Facebook users are male, while 43.4% are female
Facebook currently only publishes the gender of users who identify as male and female. Nonetheless, the number of male-identifying users on Facebook greatly outnumbers female-identifying users.
Facebook's audience was made up of 43.4% females and 56.6% males as of January 2021. In recent statistics, 2.9 billion people globally can potentially be contacted by adverts on this social media network which is owned by Meta.
Source: Statista
Facebook Video Statistics
18. Videos make up 15% of all Facebook content
Video content makes up 15% of all Facebook content, including native video, Facebook Watch, and Facebook Live videos. In 2020, Facebook pages with more than 100,000 fans posted up to 71% of their video content.
This proves that video is an important and growing aspect of the Facebook user experience and that video marketing presents opportunities for businesses.
Many individuals believe that businesses should use this kind of content since it will help them communicate with prospective customers better. And the data confirms that this is in fact what is happening.
Video consumption has always increased gradually but will keep increasing as more and more brands opt for this kind of content over time.
Source: Socialinsider
19. Vertical videos boost engagement on Facebook across all profile sizes
Facebook content in the form of vertical video is the most engaging on the platform. The average engagement rate for this type of video ranges from 0.20 per cent to 1.77 per cent, depending on the account size.
Vertical videos can perform wonders for your business. They are also very beneficial to users on social media platforms. In fact, marketers who started using vertical videos to advertise their goods claim they had much greater results than those who didn't, particularly in terms of views and engagement.
Source: Socialinsider
20. Facebook videos guarantee growing accounts a CTR of 29.66 per cent
Facebook continues to be the top platform for ads and pay per clicks. In light of the massive influence that video marketing has nowadays, it is also crucial to understand how much traffic this type of content can generate in comparison to all other types.
Videos drive higher traffic across all profile sizes due to their more entertaining nature and ability to provide more information in a brief amount of time.
The CTR for Facebook videos is 29,66% for growing accounts. Whether it be an advertisement or a basic post, imagine the traffic growth potential, conversions, and sales that could result from simply including more videos in your Facebook content strategy.
Source: Socialinsider
You've learnt about Facebook statistics. Now check out the top statistics on other social media platforms.
Get the best results today using Facebook Ads
Statistics have always been useful in demonstrating what needs to be taken into consideration going forward. Making the best choices with your advertising budget as a marketer depends on your ability to remain current on Facebook advertisements statistics and trends. We believe that these Facebook advertising statistics will help you gain insights into the best marketing decisions. Thinking of growing your online business? Feel free to contact us today for all your digital marketing needs and inquiries.