Launched back in 2016 but hitting popularity in 2020, TikTok is the home of viral dance trends, influencer content, and videos posted by everyday users. Offering users a light-hearted outlet during the pandemic, the platform became known for its lip-syncing videos inspired by popular shows, including Lip-Sync Battle and RuPaul's Drag Race.
TikTok has become increasingly popular in recent years for its digital marketing capabilities and direct-to-the-consumer TikTok shop feature, allowing users to checkout in just a few clicks.
The company's mission is to be the "leading destination for short-form mobile video", signalling its rivalry with fellow video-based integrated platforms, including Instagram and YouTube.
At Creative Marketing (NW) Ltd, we believe that TikTok will continue to go from strength to strength as well as entering the B2B market. Hence, it is essential that all businesses at least consider how they can integrate activity into their marketing plans.
Want to find out more? We have pulled together 50 statistics around the world of TikTok, which demonstrate just how much of a big player it is.
Company Statistics
1. TikTok has more than 26,000 employees in more than 11 offices
With locations based in Los Angeles, New York, London, Paris, Berlin, Mumbai, Singapore, and more, the company is demonstrating the global reach that is intended for this app.
TikTok is owned by Bytedance, which is based in China but shares some of the same locations with its parent company.
2. The TikTok app has been downloaded more than 176 million times as of 2022.
This makes the platform only the fifth ever app to reach over 3.5 billion downloads in total. This was also 25 million more downloads than short-form video competitor Instagram and was the case for all regions apart from Asia.
We think that TikTok offers brilliant value to brands and consumers, with the option to tailor the platform for B2B or B2C needs. The amount of video editability, marketing plug-ins, size of influencer network, and ability to hop onto trends quickly makes this social media outlet one not to miss.
3. The app is available in over 150 countries.
The USA has the largest TikTok audience, with over 136 million users as of 2022. Indonesia (99 million) and Brazil (73 million) follow closely behind, and the UK sits in 12th place with an impressive 23.3 million users.
What is even more impressive are the growth levels since the app gained notable popularity in 2020, with the users in the USA has increased by around 65.9 million.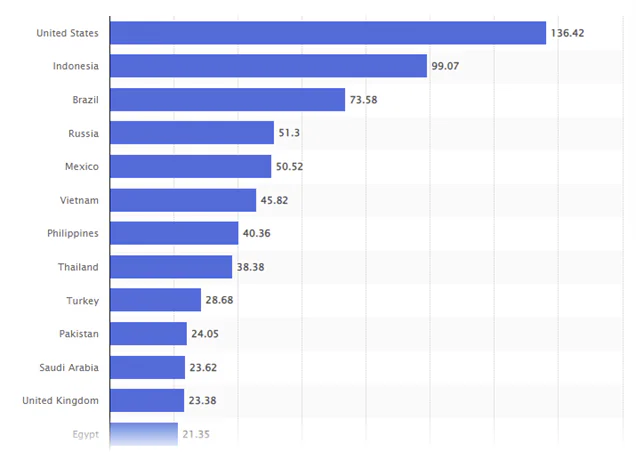 Number of TikTok Users Worldwide
Source: https://www.statista.com/statistics/1299807/number-of-monthly-unique-tiktok-users/#:~:text=As%20of%20January%202022%2C%20The,TikTok%20to%20watch%20short%2Dvideos.
4. TikTok is aimed at a younger audience, with only 16% of adults having a very favourable opinion of the platform.
The influencer phenomenon and meme-style nature of the posts on TikTok are definitely tailored to a younger audience, but we think there are promising signs for other demographics also. In the same survey, only 29% of adults did not know of TikTok or had no opinion to share. Thanks to the varied use of the app, including live streaming for news outlets, profiles from country officials, and the increase in app shopping becoming more popular, we think these latter figures will continue to change in favour of positive response over the next few years.
TikTok Audience
Source: https://www.statista.com/statistics/1278565/united-states-adults-favorable-opinion-tiktok/
5. TikTok is available in over 75 languages.
This wide range of coverage means that the app can be understood but almost the entirety of the world.
6. The app only took 200 days to develop and launch.
This is a very short period of time and representative of the quality of development that TikTok's parent company had access to.
In comparison, Instagram took over a year to launch from the concept stage.
7. Since 2021, the app has been downloaded more than 100 million times on the Google Store.
This is alongside the 60 million plus downloads from the Apple App Store. TikTok is therefore the most download app since 2021 on both stores.
Social Media Download Statistics
Source: https://go.sensortower.com/rs/351-RWH-315/images/Sensor-Tower-Q1-2022-Data-Digest.pdf
8. TikTok paid more than $179 million in music rights in 2021.
Whilst the platform does feature many viral artists who have gained notoriety on the site, the nature of the in-app music options means that a large chunk of revenue gets paid back to rightsholders.
This has also been a development of lesser-known users creating their own musical content for sharing on the site as a money-making method. To select music for a video, users browse a library of content made up of the latest tracks. Sound bites from TV shows and movies are also included, which contribute to the high royalty fees.
9. TikTok is worth $75 billion in 2022.
This is $25 billion more than the estimation in 2020 with its parent company being worth an estimated $425 billion.
10. The total number of videos removed by TikTok as of 2022 only stands at 1%.
TikTok employs a team of quality assessors and community violation marshals who ensure that any unsuitable content is removed from the app. The top reasons for content being removed from the site are minor safety, violent or graphic content, and illegal activities.
As the platform is used by many young users, they are responsible for keeping the content suitable for mass consumption.
TikTok Upload Statistics
Source: https://www.tiktok.com/transparency/en-us/community-guidelines-enforcement-2022-1/
TikTok Usage and Demographics Statistics

11. The number of first-time installs peaked in 2020 at 980 million.
This was an increase of 849 million users since 2017 and even 242 million more than the previous year.
2020 was a huge year for growth with the arrival of many popular influencers, viral dance trends, and the start of music playlists. People were using the site as a way to interact with friends and family during lockdown periods and using it as a way to channel their boredom into a fun and creative outlet.
TikTok is said to have turned entertainment "on its head", with users choosing the platform over more traditional forms of entertainment.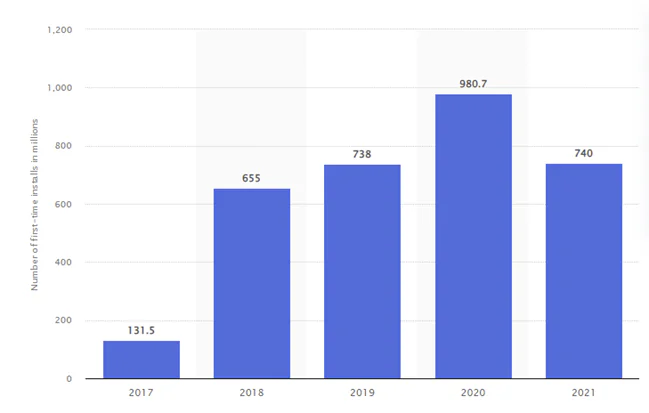 TikTok Install Statistic
Source: https://www.statista.com/statistics/1089420/tiktok-annual-first-time-installs/
12. Eight new users join the platform every second.
Equating to more than 650,000 new users every single day, this represents a huge opportunity for brands to reach willing users.
This also showcases the importance of reactive content and trend-focused tie-ins as users tend to download new platforms after seeing them mentioned somewhere or by being recommended to do so for something in particular.
13. In 2021, the average amount of videos watched per minute was 167 million.
With the ability to scroll through various videos in a matter of seconds, it is no wonder that this total is so high.
TikTok offers the ability to swipe between the "for you" and "following streams", which encourages users to view the content of both creators they follow and new ones. Thanks to the algorithm, similar content is more likely to be shown within the for you stream, which means that similar brands are influencers and can quickly gain exposure to prospective audiences.
14. Tik is more entertaining than TV and other social channels according to 20% of users.
Something that you cannot escape when scrolling through endless streams of content on the platform is the humorous themes apparent within the content.
Whilst more serious outlets are available on the site, there is a balance which weighs more towards fun content that offers a form of escapism. Users also cite the various perspectives, information sources, professional editing and influencer creativity as reasons for returning to the app.
15. 70% of users feel a deep connection with brands.
As well as being able to comment, share, and engage with content in other ways, TikTok offers a popular duet feature which means people can create video responses alongside original content. Creators can also create video content in response to user questions which enhances the connections that people experience on the platform.
Content creators can also run live videos, which allow people to join a stream of content for real-time commenting. Live duets can also take place during these sessions for conversational-style interactions.
The possibilities for brands to use these features are plentiful.
16. TikTok is a trusted news source for 28% of teens.
A recent example of this is the Johnny Depp trial, which saw people turning to the social media platform daily for live streaming and updates. The hashtag #JusticforJohnny has over 1.5 billion views and when the actor joined the app himself in June 2022, he reached over 10 million followers within just 24 hours of posting his first view.
The popularity of celebrity news and affairs also means that notable news sources have users' attention for sharing more important messages in a way that will ensure engagement.
17. In 2021, 80% of revenue came from China.
This was compared to just 8% from the USA.
18. The app is the 6th most popular social network in the world.
This is impressive considering that other social media apps are available in a few more countries.
We believe this will increase quickly for TikTok as the app continues to get rolled out in new regions over the next 12 months.
Popular Social Networks Worldwide
Source: https://go.sensortower.com/rs/351-RWH-315/images/Sensor-Tower-Q1-2022-Data-Digest.pdf
19. The app is used by over 8 million users daily on iOS.
TikTok is like Instagram in the sense that it is not designed to be used on desktop. Whilst videos can be used using the desktop version, the uploading and editing features are not available which means users are most likely to access them via mobile devices and tablets for the full experience.
20. By 2024, there are expected to be 8 million users in the UK alone.
This is likely to be made up of Gen Z users, of which 40% say they use the app as their preferred search platform of choice.
21. Caption and translation tools are being optimised for more than 7 languages in 2022.
The launch of auto-generated captions and video translation software is designed to enhance content for users in different countries. The concept of bringing more people together through the form of entertainment is one of the main brand values for TikTok and this is just one of the many ways in which they hope to achieve this.
22. 75% of users look to TikTok to find new music artists.
This is just one of the many statistics that prove the app is used as a popular search tool.
Over the past few years, TikTok has further enhanced its search capabilities to encourage this type of interaction. Using keywords, hashtags, and suggested content means that the app is a search tool that every business should consider.
23. 7% of adults use TikTok as their main news source.
This has increased from just 1% who confirmed they used TikTok for this feature two years ago.
24. 29% of people use the app daily.

This is since Q2 2022, which makes TikTok the second most engaged user base when compared to other social media platforms.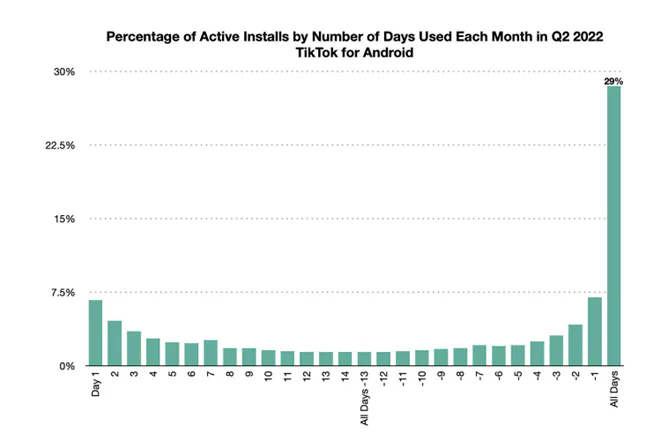 Percentage of Active TikTok Users
Source: https://sensortower.com/blog/tiktok-power-user-curve
25. 54% of users have commented on a video within the past month.
As you can see from the below statistics, engagement rates and actions are high on the platform and show that users do crave the interactive nature that the platform offers.
TikTok Engagement
Source: https://influencermarketinghub.com/tiktok-influencer-marketing-guide/
26. In 2020, 47% of children under the age of 16 accessed TikTok.
This was the most popular platform with the next most accessed being Facebook (42%), Instagram (36%), and Snapchat (33%).
27. The average length of a user session is 85 minutes.
User sessions are also increased when subjected to live video and brand content which is why we believe it is important to have varied content on your page.
28. 43% of users are male and 57% are female in 2022.
This interestingly also echoes the balance of genders on Facebook, which is TikTok's main competitor for social activity.
Females are said to share more on social media and are more likely to participate than men. Globally, there is also an average of as much as 80% in favour of women making consumer purchases and associated buying decisions, meaning that the marketing within social media platforms does need to be more female-focused.
29. 55% of users have uploaded their own TikTok video within the last month.
Not just including edited videos, this statistic also takes into account duets and comment videos on other channels.
30. Furthermore, 83% of users have uploaded a video during their overall time of using the platform.
This is a high percentage and reflects the conversational, community feel that TikTok has.
TikTok Influencer Statistics
31. Khaby Lame is the most followed person on TikTok, with over 147 million
This account is closely followed by Charli D'Amelio (143.3 million), Bella Poarch (90.5 million), and Addison Rae (88.2 million). Each of the accounts is targeted at younger generations, but interestingly, Khaby Lame took the top spot only this year, showcasing the ability of viral accounts to thrive.
32. Charli D'Amelio is the highest paid influencer bringing in $17.5 million in 2021.
Closely followed by her sister Dixie D'Amelio ($10 million) and Addison Rae ($8.5 million), TikTok has a vast number of influencers under the age of 20 that are bringing in the big bucks.
This is achieved through brand deals on the platform, own product launches thanks to TikTok exposure, and TikTok creator fund payments.
33. Over £231 million has been committed to the creator fund between 2021 and 2024.
Those eligible must be over 18, have at least 10,000 followers, have over 100,000 video views in the past 30 days, and are based in the US, UK, France, Germany, Spain or Italy. This system is also run differently from other sites as it does not rely on AdSense setups. Instead, funds are earned solely based on engagement rates.
34. The most watched video on TikTok as of 2022 has over 2 billion
Uploaded by Zach King in 2019, the viral video took inspiration from Harry Potter and showed the behind-the-scenes of one of his most popular optical illusions.
35. The average earnings for an influencer brand deal in 2022 are between $50,000 to $150,000.
With big brands choosing social advertising over traditional forms of marketing, we are not surprised to see that the most popular influencers can cost companies a lot.
These costs are also often based on a measurable return on investment, with the final price calculated based on views, engagement rates, click-through rates, and the total number of followers.
36. Only 4.3% of users say that TikTok is their favourite social media platform.
Despite the high number of users and impressive engagement rates, Instagram and Facebook are still preferred to TikTok by 14.8% and 14.5% of users respectively.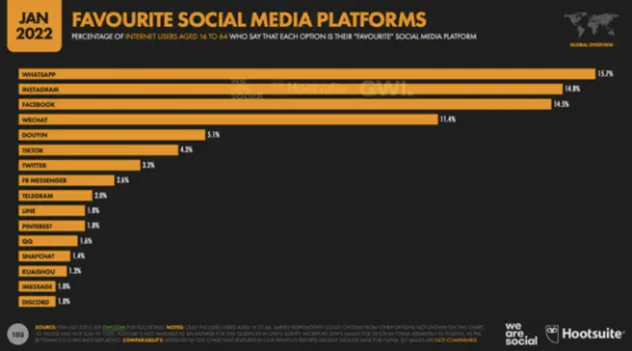 Most Popular Social Media Platforms
Source: https://blog.hootsuite.com/tiktok-stats/
Marketing Statistics
37. The most engaging category on TikTok is the FMCG sector.
With an average engagement of 15.82%, this is miles beyond Facebooks engagement for the same category, which sits at just 0.36%
This is followed by beverages (12.79%), jewellery (10.08%), and ngo (8.83%). The introduction of the TikTok shop, which allows users to purchase content via the website directly, has most definitely improved this high percentage.
Most Engaging TikTok Categories
Source: https://readwrite.com/new-study-tiktok-industry-engagement-benchmarks-for-2022/
38. 55% of users say TikTok has exposed them to new products or services.
Indicating a strong call to action potential for brands, TikTok's creative features mean that ad content can be edited in multiple ways allowing streamlined spending and a more favourable return on investment.
39. TikTok followers are 3x more likely to agree with perspectives that they hear on the platform versus other media outlets.
With the platform being full of user-generated content, it is no surprise that the content resonates with users. The mix of live features and story-style posting allows people to get to know their favourite content creators engagingly, enhancing the chance of content resonating and impressions being made.
40. One of the fastest growing markets in 2022 on TikTok is finance.
With over 7.5 billion views on #finance alone, there is a clear opportunity for financial businesses to make an impression on TikTok.
41. 73% of small businesses say that TikTok is easy to use.

Proving that both organic and paid activity is feasible for companies of any size, TikTok is favoured for small business marketing.
At Creative Marketing, we believe that you can use the platform for outreach and market and consumer research as the genuine connections that can be made often improve brand loyalty.
42. Consumers' spending on the app has increased by 85% since 2021.
The 2021 total spend of $920.7 million currently sits at over $1.7 billion in Q2 of 2022, showing an astronomical increase when overall consumer spending is in decline. This also means that TikTok has made $5 billion of consumer revenue since its launch and shows no signs of slowing down.
The closest competitor to TikTok is YouTube which made $700 million in revenue in the same period of time.
43. Fake engagement in excess of 20 billion actions was removed from the platform between January and March 2022.
TikTok removes any fake likes, followers, and follow requests to ensure that marketing statistics are as correct as possible. The rise in spambots on social media platforms is often an issue, so it is brilliant to see that TikTok focuses on genuine engagement as a measurable component.
TikTok Fake Engagement Statistic
Source: https://www.tiktok.com/transparency/en-us/community-guidelines-enforcement-2022-1/
44. Engagement in 2022 stands at 5.96%.
This is considerably higher than other social media platforms with fellow short-form video competitor Instagram peaking at 0.85%.
45. TikTok recommends posting at least 4 times a day for improved engagement.
Once a user follows a page, they are automatically shown new content via their own following stream. Also, if they engage with the page but do not follow, they will also be shown the content within their for-you content.
The more that you post, the more likely a user is to create a connection with the content and follow the account. Posting at least four times a day ensures that content is not lost within the masses of uploads and that brands can reach their intended audience via the TikTok engagement-enhancing algorithm.
46. 78% of small businesses plan on increasing their budget for the platform in 2022.
We think this is a wise idea the community element of the app helps brands of all sizes create a database of engaged consumers who are likely to share content with their wider networks.
47. Saudi Arabia has the highest TikTok reach at 88% of their entire population.
Other countries with high penetration rates are UAE (81.3%), Kuwait (75.4%), and Thailand (63.6%).
TikTok is designed to appeal to all generations but posing as a hub of information and a new style of search engine. It is, therefore, not surprising that the percentage of users that can be accessed via the platform is so high.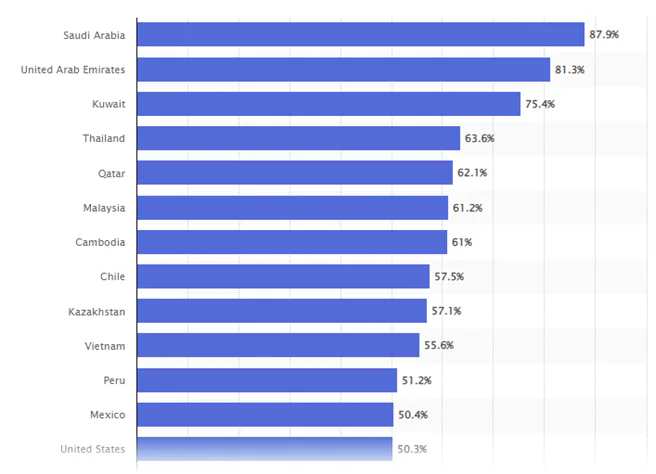 TikTok Reach Worldwide
Source: https://www.statista.com/statistics/1299829/tiktok-penetration-worldwide-by-country/
48. 1 in 5 users watch TikTok live streams.
Allowing creators to stream video content live from their accounts, this feature has been developed to become an area for revenue growth in many ways. Users can send virtual gifts to their favourite creators, which can be exchanged for money, and many influencers are also engaging with the live shopping feature to promote various brands and in-platform product offers.
With as many as 50% of users confirming they have purchased after watching a live stream, it is no surprise that the popularity of this feature is on the rise.
49. #TikTok made me buy it has had 8.8 billion views as of July 2022.
This shows that users are not just looking to the platform for their own purchases but are also interested to see what other popular items are, which in turn encourages peer-influenced shopping.
50. 77% of users also enjoy branded live content.
Many brands are now harnessing the power of instant sales instead of longer-term influencer content and as the statistics show, users are receptive to it.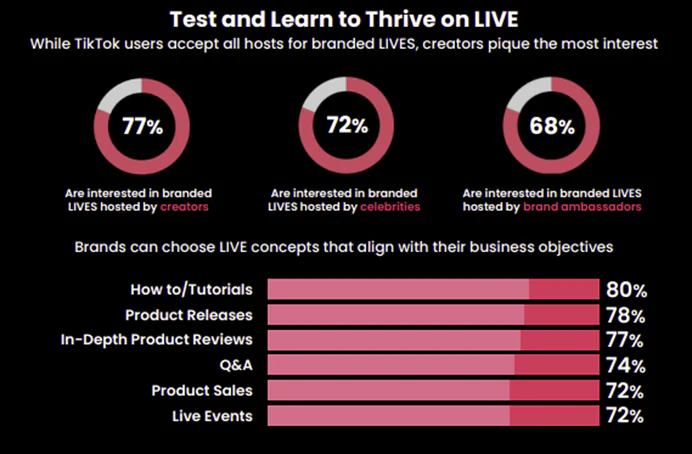 TikTok Branded Content
Source: https://www.statista.com/statistics/1299829/tiktok-penetration-worldwide-by-country/
You've learnt about TikTok statistics. Now check out the top statistics on other social media platforms.
Are you ready to join TikTok?
With constantly changing features and millions of videos to compete with, TikTok can be a daunting platform for businesses. We hope to have proved to you the importance of this social media giant within many markets.
To find out about our TikTok services and benefit from a free consultation, either schedule a call with Creative Marketing (NW) Ltd on 01706 495091 or contact us here.